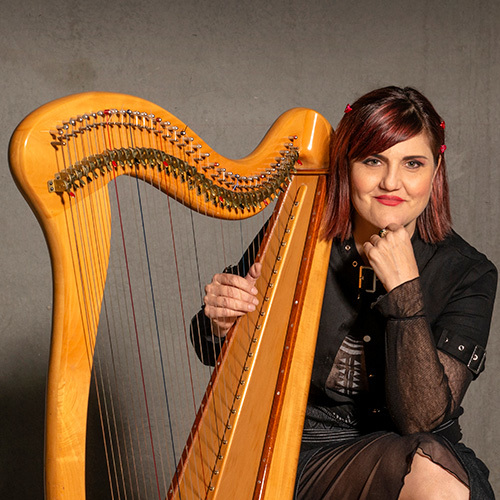 In Adelaide, someone saying "I love the sound of the harp" is often heard in a crowd watching Visnja perform. Whether it is part of a music festival or on stage for a corporate function at the Adelaide Entertainment Centre, there is just something special about this soothing ancient instrument, especially when performed in contemporary music.
At the piano, Visnja exudes a deft touch from her classical training and yet her repertoire on both piano and harp draws on inspiring selections from the 1980s through to Coldplay and the alternative songwriting genius of Nick Cave, Kate Bush and Leonard Cohen. To watch Visnja perform her interpretations of songs like these, visit the video page on this site.
Whether your event calls for three songs, the Australian National Anthem or extended sets, Visnja's pure voice and playing style lend unforgettable music to conference openings, art exhibitions, product launches, fashion shows and scientific symposia alike.

Price guide - please make contact for an exact quote.  
Special birthday parties, wedding reception background entertainment and smaller family gatherings
Adelaide from $500


2 x 40 minute sets over 2 hours 

Small corporate functions in Adelaide


$650 for the first hour (1 x 40 minute set) - including sound check within 1 hour of performance.)




$250 per hour thereafter. 

Large corporate functions for 100+ guests
Please contact us with your enquiry 
Interstate functions, conferences and corporate events - specialty featured entertainment


$3000  + return airfare + overnight accommodation OR as negotiated.
 For bookings please contact Paul Jackson 0409 004 770 or email paul@jacko.com.au